Weighing and mixing of A1
A1 is a combination of A1 Powder and A1 Liquid in the mixing ratio: 1 part A1 Liquid and 2 parts A1 Powder (1:2). This is always based on weight.
Mixing can be done with a spatula (small quantities) or with a High Shear mixer. First, start stirring the A1 Liquid and gradually add the A1 Powder.
The A1 is ready when any lumps have disappeared. Mixing takes about 1 minute. Try to mix with as few air bubbles as possible in the A1 by keeping the mixer head under the surface.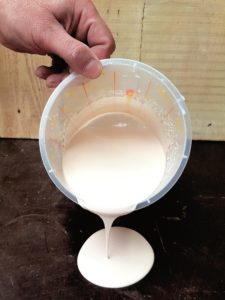 A1 Manual
In our A1 Manual you will find a lot of information about how to use A1, available fillers and additives, reinforcement fabrics etc.
The A1 Manual can be downloaded here.
Support
If you have any question about working with A1, please contact your distributor or contact us directly at info@activecomposites.com.au
We are more than happy to offer you the support needed.
Webshop
You can order your A1 base material via your distributor or the webshop.